Talk about the best "one-pot wonder" ever, this one may be it! It is a great combination of flavors with just the right amount of everything.
I served it along with these brand new Tostitos Rolls (right next to the regular Tostitos at J&J) and it was perfect!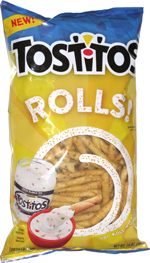 Ingredients:
· 2 tablespoons olive oil
· 1 medium onion, chopped
· 1 pound boneless, skinless chicken breasts, chopped into bite-size pieces
· Salt and pepper, to taste
· 1 cup white rice, uncooked
· 2 cups chicken broth
· 1 (14.5 ounce) can Rotel diced tomatoes and chilies
· 1 (10 ounce) jar enchilada sauce
· 1 cup whole kernel corn
· 2 teaspoons chili powder
· 1 (15 ounce) can black beans, drained and rinsed
· 1 cup Mexican blend shredded cheese
· Toppings: shredded lettuce, diced tomatoes, diced green onions, sour cream, guacamole

Directions:
1. Add the olive oil to a large skillet or Dutch oven and place over medium-high heat over 1 minute. Add the onion, chicken, salt and pepper. Cook for about 5 minutes, until onion softens and chicken is no longer pink, stirring occasionally.
2. Add the rice to the pot and stir. Cook for 3-4 minutes, stirring occasionally. Add the chicken broth, Rotel tomatoes, enchilada sauce, corn and chili powder. Stir and bring to a boil. Reduce to a simmer and cover.
3. Cook uncovered, stirring occasionally, about 20 minutes or until the rice has absorbed all of the liquid.
4. Remove from heat. Add the black beans and stir to combine. Top with cheese and let rest for 5 minutes.
5. Serve warm with toppings.