Happy Labor Day!


All this week, I'll be sharing recipes that can be found in what may be one of my favorite cookbooks ever, Southern Living's "The Official SEC Tailgating Cookbook." This cookbook came out last fall and has great recipes for tailgating or everyday cooking for that matter. It's great reading too because it highlights each of the SEC colleges. Isn't she pretty?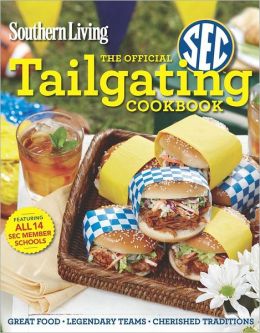 In addition, if you're a listener to the Cooking with Crevolyn segment on WDUN on Monday, Wednesday and Friday mornings at 8:20 a.m., I'll be giving away one of these great cookbooks on Friday to one lucky caller. It could be you!

On Saturday morning as my boys were headed out the door to Death Valley (Clemson University), I loaded them up with breakfast and lunch. Stay tuned, I'll share their tailgate lunch tomorrow. But breakfast was this recipe for Scrambled Egg Muffin Sliders. Here's a peak ...


Oh, surprise!! This doesn't have anything to do with food but look how cute my baby girl is in her Georgia scarf. Go Dawgs!




Here's the recipe:


Ingredients:
6 bacon slices
2 cups self-rising white cornmeal mix
1 tablespoon white sugar
1½ cups buttermilk
1 large egg
4 tablespoons butter, melted
1 cup shredded sharp Cheddar cheese
Vegetable cooking spray
8 large eggs
1/2 teaspoon Creole seasoning
1 tablespoon butter

Directions:
1. Preheat oven to 425 degrees. Cook bacon in a large skillet over medium-high heat 12 to 14 minutes or until crisp; remove bacon, and drain on paper towels. Crumble bacon.
2. Heat a 12-cup muffin pan in oven 5 minutes.
3. Meanwhile, combine cornmeal mix and sugar in a medium bowl; make a well in center of mixture.
4. Stir together buttermilk and egg; add to cornmeal mixture, stirring just until dry ingredients are moistened. Stir in melted butter, cheese and bacon. Remove pan from oven and coat with cooking spray. Spoon batter into hot muffin pan; filling almost completely full.
5. Bake at 425 degrees for 15 to 20 minutes or until golden. Remove from pan to a wire rack and let cool 10 minutes.
6. Whisk together eggs, 1 tablespoon water and Creole seasoning in a medium bowl. Melt 1 tablespoon butter in a large nonstick skillet. Add egg mixture and cook without stirring, 2 to 3 minutes or until eggs begin to set on bottom.
7. Gently draw cooked edge away from sides of skillet to form large pieces. Cook, stirring occasionally, 4 to 5 minutes or until eggs are thickened and moist. (do not over stir).
8. Cut muffins in half and spoon eggs over bottom halves. Cover with top halves of muffins.
By the way, just for the record, I'm not receiving any sort of compensation for this cookbook giveaway. Southern Living doesn't even know who I am.